Hi everybody;
We just got our new shipment of eTopps in for our store, and since we had a solid response the last time I figured we would throw them on here to see if we had any takers this time around. There will also be posts in the baseball and basketball forums. As before, these prices will be cheaper than ebay, as we are saving fees and passing that along to you!
2011 Aaron Rodgers Superbowl MVP
Print run of 1499
$11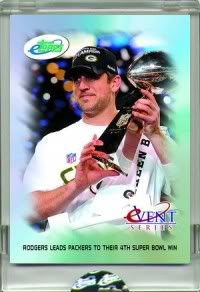 2010 Pittsburgh Steelers Team card
Print Run of 859
$11
2010 New England Patriots Team Card
Print Run of 999
$12
The other 2010 Team cards we have available are: Bears, Seahawks, Jets, Colts, Saints, Ravens, Falcons. LMK if you would like to see any pics of the above and I can get them. Prices run between $10-$13 for the others listed.
The Allen and Ginter Superbowl Champion set from 2011 is also in hand. Here are a couple of pics/prices.
Steve Young
Print Run of 799
$21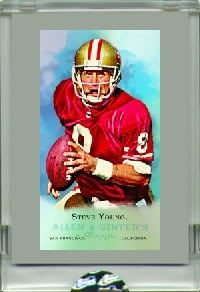 Vince Lombardi
Print Run of 999
$18
Others available include: Jerome Bettis, Franco Harris, Len Dawson, Ken Stabler, Ronnie Lott, Howie Long, Marcus Allen. Pics available upon request, price range from $12-$21.
Thanks for the look, and feel free to take a peek at the ebay store as well. Willing to discount for working through the boards as opposed to ebay.
If you are looking for quantities, PM me about bulk discount.
Thanks again!