I'm usually a football guy but decided what the hell and tried a box of 2012 Bowman Chrome. Here are the results. I only know a few of the names.
Base Refractors:
Starlin Castro
Todd Helton
1st Bowman Card Prospects
- Will probably just put these in a box and open it up in a couple years. Not sure who is a top prospect or not except the ones with smilies.
Maikel Franco
Felipe Rivero
Christian Bergman
Tyler Kelly
Jon Talley
Daniel Santana
Starlin Rodriguez
Alen Hanson
Jamal Austin
Joel Caminero
Camden Maron
William Beckwith
Guillermo Pimentel
Cameron Seitzer
Tyler Rahmatulla
Derek Christensen
Carlos Valenzuela
Wander Ramos
Aaron Brooks
Brian Humphries
Estarlin Martinez
Gregory Polanco
Julio Concepcion
Danny Winkler
Bobby Bundy
Eduardo Rodriguez
Jordan Shipers
Juan Lagares
Kevin Chapman
Jake Buchanan
Ruben Alaniz
Shawon Dunston Jr

Montreal Robertson

(Tigers)
Juaner Aguasvivas

(Tigers)
Gregory Hopkins Refractor
Jorge Soler Refractor

RC's
Yoenis Cespedes

Matt Hague
Matt Moore
Wade Miley
Elian Herrera
Inserts
Jesus Aguilar Futures Game
Robinson Cano/Tyler Austin Franchise All Stars
Ali Solis Futures Game
Prince Fielder Legends In The Making Die Cut

Colored and Autos
Carlos Santana Blue /250
Mark Trumbo Purple /199
Pratt Maynard Auto
Bobby Crocker Refractor Auto /500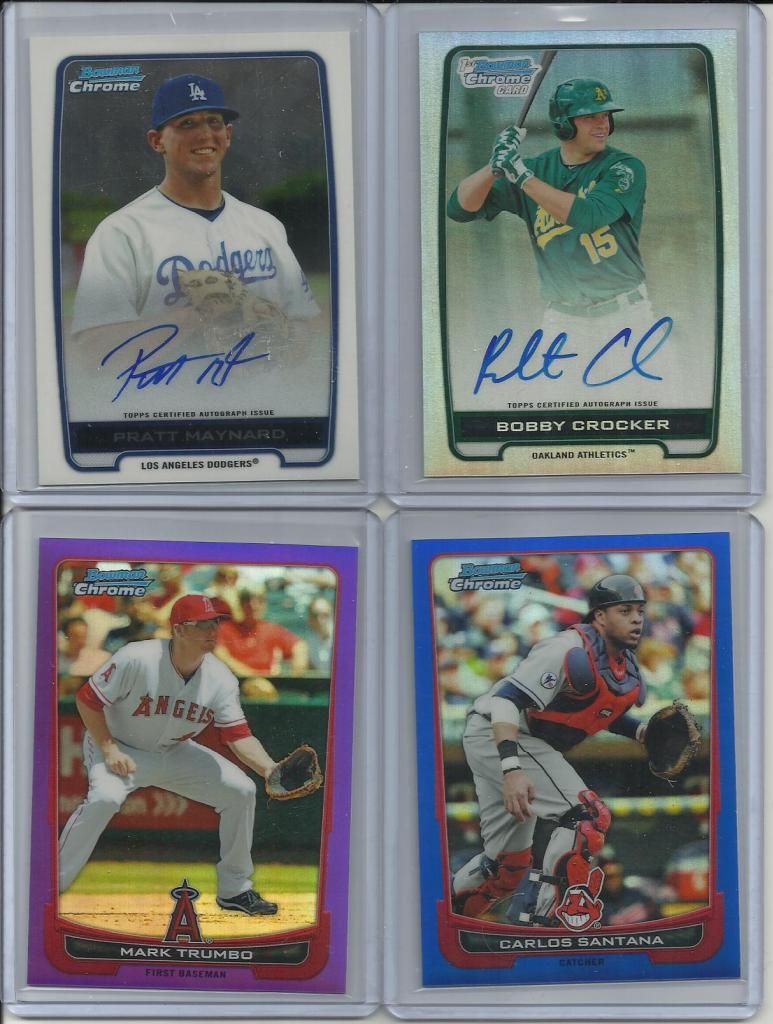 Overall I had fun busting it even though I don't who most are. Looked up the autos on eBay and they don't sell for much so I will just hang on to them and hope they become good. I have to send the Bobby Crocker back to Topps though since there is surface damage near the right middle border.