I'm mostly a baseball collector, but hockey is my favorite sport so I like to bust some hockey on occasion. Last year I loved this product and only bought 8 or so loose packs, didn't even pull anything exciting but I loved the look of the cards and loved what others were pulling. I had to buy a box this year: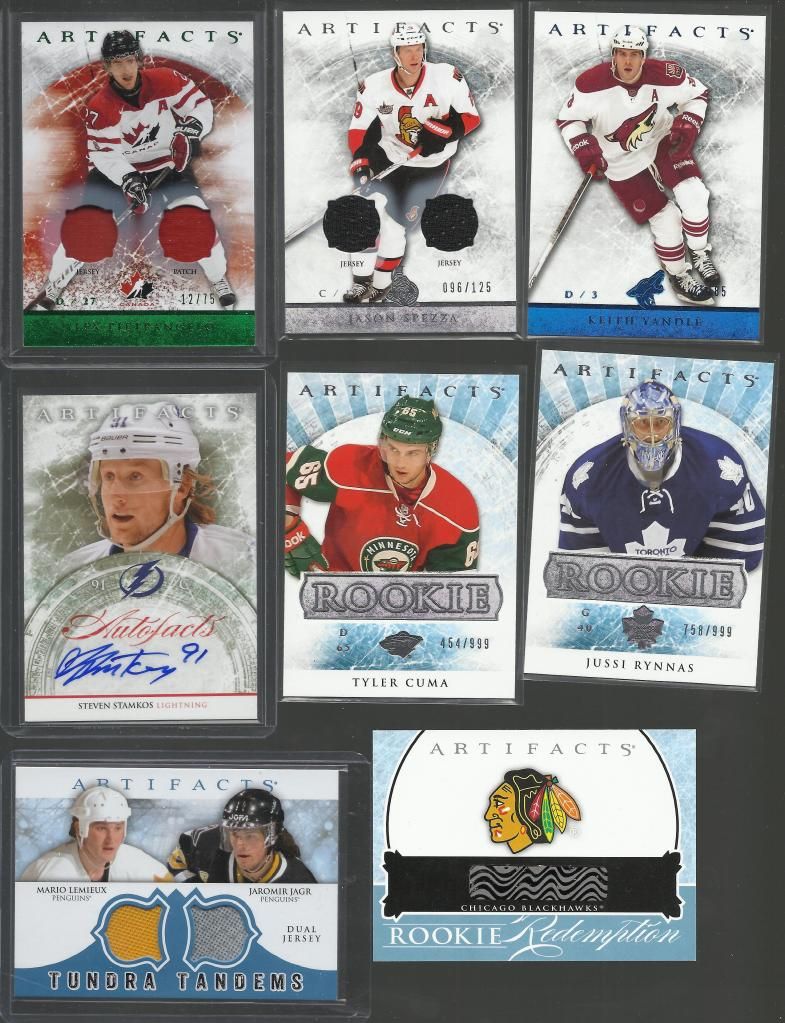 Since the names are tough to read, from left to right: Alex Pietrangelo Patch, Jason Spezza jersey, Keith Yandle Blue Parallel #d/85, Steven Stamkos auto, and at the bottom Lemieux/Jagr dual jersey.
I'm a Blues fan, so the Pietrangelo is a nice PC card, though obviously I'd prefer a Blues jersey. And it is inevitable that I pull some Blackhawks hit, parallel, or something, I always do. I was happy to get Stamkos, and also can't go wrong with Lemieux and Jagr. Nothing spectacular, but a nice PC card, a solid auto, and a nice dual jersey, seems like a solid box. Nothing is for trade at the moment, except I'd consider trading Pietrangelo for a Blues patch. The others will likely be for sale. I really love the base set and I'd like to build it, if anyone who busted a lot of this has a bunch of base, rookies, and Canada cards that they'd be willing to sell for cheap, please let me know, I think it's a great design. Thanks for looking!
Dan