I've had a redemption in for a while now for a Demarco Murray 2011 Absolute RPA #'d to 299 or 399, don't really remember. I emailed David at their redemption department and asked if Murray was going to sign any time soon. He said they were still trying to set up a session with him. Kinda crazy since Murray plays for the Dallas Cowboys and they can't get him to sign and he plays for a team that's in the same city as Panini HQ. I asked if I could have any feedback on replacements and told him I'm a major Bucs, and Ray Lewis fan. David said that he could either give me a Doug Martin auto or a couple of Ray Lewis patch cards since they didn't have any Lewis auto's at the time. I told him that I knew he would take care of me and I would be happy with either but if he sent me a Martin auto please give me one with some material in it.
David HOOKED me up for sure. I was a very happy camper when I got these two cards in the mail today:
2012 Certified Freshman Fabric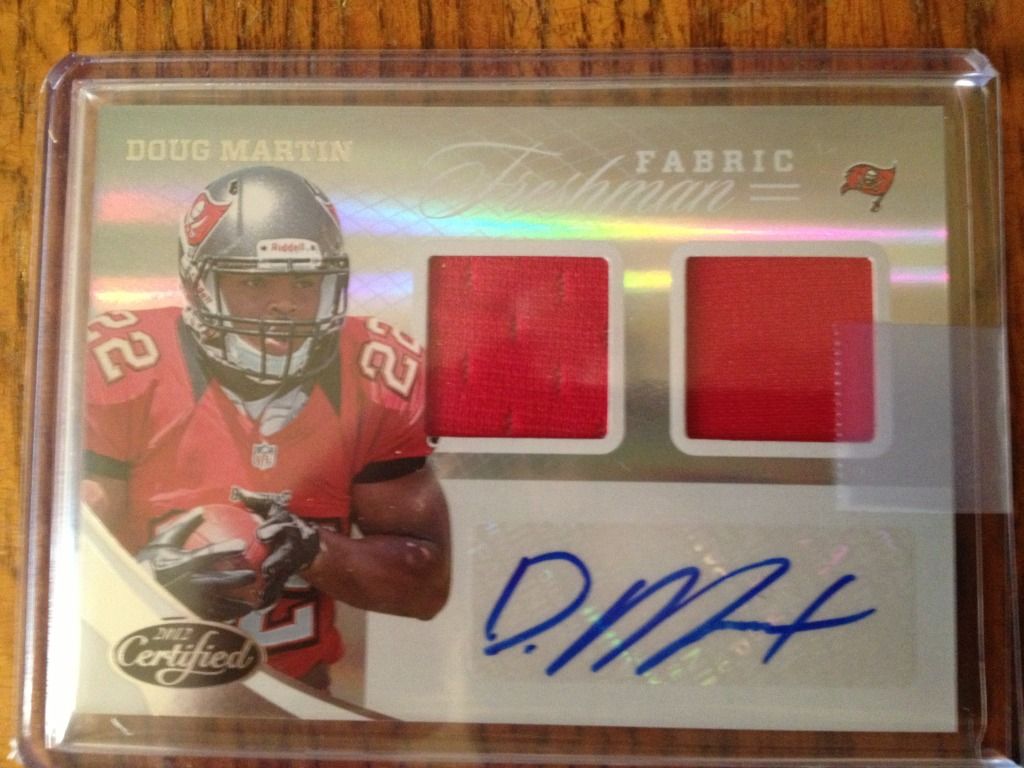 And then he sent me this one too. Love the fact that it's a logo patch. One sword and 1/2 of the skull #/49:
But they used jerseys that have screenprinted pirate ships and not actual patches. Is this how the Nike jerseys are made now? All of my authentic Reebok and Adidas jerseys are sewn patches for the ships.