Welcome to Blowout Cards Breaks with Matt - Your one stop shop to online group breaking and personal box break requests!
In 2008 I began hosting online group breaks for collectors and have since been actively been involved in the progression and transformation of the sports card industry through Online Group Breaking. We've been lucky enough to be featured in multiple media outlets, including ESPN Mint Condition to talk about Online Box Breaking and its increasing popularity amongst collector's!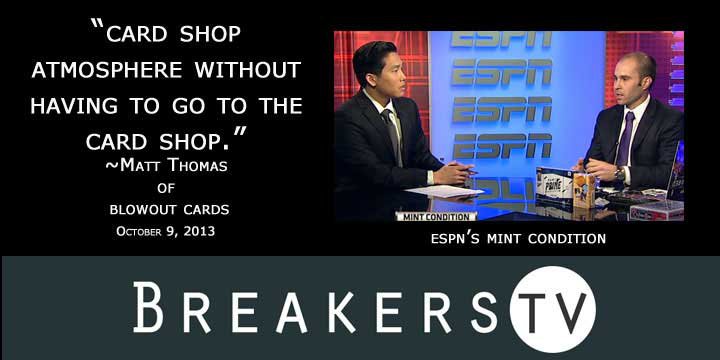 Blowout TV's Mission
-
Our goal as a company is to provide the best possible service and hottest product releases to our customers on a daily basis! Personally, I feel as though Blowout TV has been at the forefront of a progressing market and strive professionally to discover new and exciting ways to engage collector's in this wonderful hobby!
Hours of Operation
-
We typically broadcast Monday - Friday via Breakers TV and offer customers a huge variety of products for purchase!
Be sure to check out our Breakers TV page below for a full menu of product availability and our Blowout TV w/ Matt FAQ page for instructions on how to order.
BlowoutTV on Breakers.TV
If you have any questions please do not hesitate to contact me directly at
matt@blowoutcards.com
Social Media
-

Please give us a follow on Twitter to receive daily updates on broadcast times, new releases, promotional opportunities and exciting group breaks!

@matt_blowouttv
@blowoutcards
@afantasticstore
@blowoutbuzz
Blowout Cards - Sports Cards and Trading Cards Wholesale Online Store
Blowout Cards Forums - Sports Cards, Trading Cards, Non Sports and B/S/T
BlowoutTV on Breakers.TV