Summary of the 2012 National Convention in Baltimore:
Just wanted to start off by thanking all of you who made it out to the show and came by the BLOWOUT CARDS booth. We've been doing this for several years now and it's always good to see familiar faces and meeting new customers. We hope that we not only met your expectations but exceeded them. One of the most important aspects that we talk about in our team meetings prior to the show is service. We realize that many of our customers come to our booth with certain expectations in mind. Whether it's price, questions on products, availability and selection, customer service, free giveaways. Whatever it may be, we try to keep all of this in mind and we hope that we are able to make it so that you walked away from the show knowing that we truly care about our customers and appreciate your business. As one of the larger exhibitors at the shows, we think we "Get" what people are looking for. Collectors come to this show once a
year and are excited about it. People want to have FUN, get some great deals and come away feeling good about it and that's what each and every member of our staff tries to accomplish. The raffles were a lot of fun and we gave away some nice items each day ranging from "Swedish Fish" all the way up to National Treasures Football !
Here are a few highlights from the show:
-Everyone was asking about Mike Trout. We could barely keep his products in stock. Going into the show, we knew people would want products with Trout but the demand even blew us away. You can just tell that anything with Trout is moving higher. Some of the products that collectors kept buying were:
2011 Topps Finest BB, 2011 ITG Hits series 1, 2009 Bowman Sterling BB, 2010 Bowman Platinum BB, 2011 Bowman Sterling BB, 2012 Bowman Platinum,2011 Bowman Draft Picks, 2012 Tier One, 2012 Topps Museum, 2011 Topps Update & Highlights, 2011 Topps Value Boxes. Pretty much any product that had a shot at a Trout Card or Auto.
-The 2012 Topps 1952 Topps National Convention VIP cards were a big hit as they are each year. If you missed it, we have some available for sale on the website.
2012 Topps National Convention VIP 1952 Retrol Card Set
-High End Topps products were on fire. Triple Threads, Bowman Sterling, Tribute, Museum...Every year sold well and it seems they will probably move higher in the coming months. It feels like they are on the cusp of a break-out similar to the way many of the older products had surged in the past such as Exquisite's, NT's, Tribute's 10 years ago, Yankee signature, the older Topps Pristine products.
-2011 FB products sold very.. very ...well. Sold sold out of 2011 NT at the show. Actually all NT and Exquisite sold well. Collectors wanted 2011 FB and as the season approaches, we just have a feeling collectors are going to keep coming for 2011 FB. Any of the redemption based products specifically for the show sold very well. We'll provide a better breakdown below but collectors were certainly targeting the free items tied into the redemption programs.
-The Sportkings Booth was crazy busy throughout the show. Collectors were ripping 16 bx and 48bx master Cases all show long. It's always a big help when the owner of the company (Dr. Price) is front and center at the booth and available to answer questions and also run promotions while assisting collectors. It also helped that there were collectors waiting at the booth to buy cards that were pulled from the cases. The short printed letters and 1/1 cards were in high demand. We had numerous collectors buy boxes, crack them, flip the singles and come back to crack more.
-The Panini wrapper redemption program was the one that everyone wanted to take part in. Whether you were going for the $6500 VIP night or just busting boxes for the silver packs, Panini had it all covered. The Lines were consistently packed and collectors were ripping all day long while the supplies lasted. Over the years, Panini has developed a strong following for the wrapper pack promotion. Collectors come to the show knowing that they want to take part in this program. Panini stepped it up with the VIP night. We had numerous customers attending the $6500 VIP event (More pics posted below). It was a great event that Panini put on for those who took part.
-The 2012 Bowman Platinum Redemption was the most popular promotion at the Topps Booth. The sets #'d out of 499 were worth about $100-$150 at the show. You were basically getting the Box for free if you were lucky enough to get one of the sets in the morning. It was pretty much a mad dash to the Topps line when the show opened up each morning. Topps also debuted the 2012 Topps Mini's. They were a huge hit and many of the low numbered autos such as trout were going for some big bucks. We also heard that the rip was very good.
-The Historical Autograph Company was a Big Hit also at the show. The Free Signature card for busting a Legends of the Hall box at their booth was a great giveaway. They started with about 250 giveaways...sold out but rather than ending the promotion, the owner of the company extended it out to offer to mail collectors the cards in a few weeks. They also had other signatures available the last few days for collectors. That is the advantage when the President of the company is available at the show and can make decisions on the fly to accommodate the collectors. There were some big names pulled out of the redemptions. We heard a few Ted Williams were hit. Expect big things from this company as their product line is catching on with collectors
-Leaf had a lot going on. Not only were we selling the wax very well but we kept hearing that Leaf's owner Brian Gray was spending major bucks on single cards. Leaf Best of Baseball was a sell out at the show and one of the most requested items throughout the National.
-Onyx's products sold very well for us at the show. The Ball's have always sold well in the past but their first single card product has a great prospect checklist. We had a lot of collectors breaking for their redemption. The Babe Ruth ball giveaway was also a big media draw for the company. Similar to HAC, Onyx is also a company on the rise.
-The Benchwarmer National product sold out at the show. Wish we had more cases to sell and it helped that the girls were hanging out at the booth signing and kissing cards

-We went through all of our Press Pass redemption promotions within the first 2 days. 2012 Showcase was a hit at the show and especially with the Free redemption pack while we had supply.
-Upper Deck products did well also. Collectors were buying 2012 UD FB which was the best value for the promotion. We saw a few MJ and Lebron Autos pulled.More than the promotion, the older UD products are in such high demand. Anything with Exquisite, Cup HK, Black, Premier. All of those brands are just golden if you had any.
We did do a lot of buying at the show also. One of our favorite purchases was a run of 2003/04 Basketball. Some of you may be familiar with a few of these cases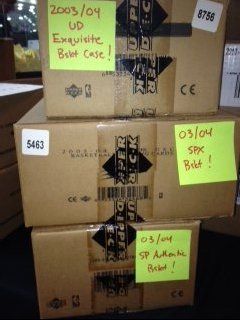 Overall, the show was a huge success from a sales, marketing, and networking standpoint. We've had numerous requests from vendors and manufacturers at the show who want to work together on promotions for next year. We're already talking about how we can make it better next year. As we do every year, we have a team meeting next week to go over ideas. The whole show was just amazing and we again Thank you all of you for your business and continued support of the
BLOWOUT CARDS brand. We owe a lot to our collectors which is why we try to give back so much through our promotions. Although the show is officially over, we do have some nice surprises planned for our customers and forum members. Panini generously allowed 2 members from our team to attend the Panini VIP event with some of our customers. During that event, we are able to pick up some party prizes which we will give away through various promotions in the coming months.
Stay tuned for much more and we look forward to seeing everyone next year in CHICAGO !
Sincerely,
The Staff at BLOWOUT CARDS
Here are a few more pics from the show and the Panini VIP event: