Thought I would share this, I thought that other sketch card collectors might find it interesting/handy.
Over the years, I've picked up a lot of odd sized sketch cards that have been difficult to store or view. Puzzle sketch cards, Rittenhouse AP sketch cards, 4x6 and 5x7 cards, etc. Plus a couple of years ago I picked up a bunch of Breygent World of Fantasy z-sketch cards (an 8x10 piece of paper with cards attached to two corners; that fold up like a map to regular card sized; but to view the art, it has to be unfolded).
While I found that you can buy different sized toploaders to fit a lot of these cards (3x5, 4x6, 5x7, 8x10, etc), then I had a stack of odd sized toploaders just piled up in different spots in my apartment. But recently, I found that you can get binder pages to hold different sized cards, and here is what I've picked up so far:
1-pocket Magazine binder page (holds up to 8.5x11)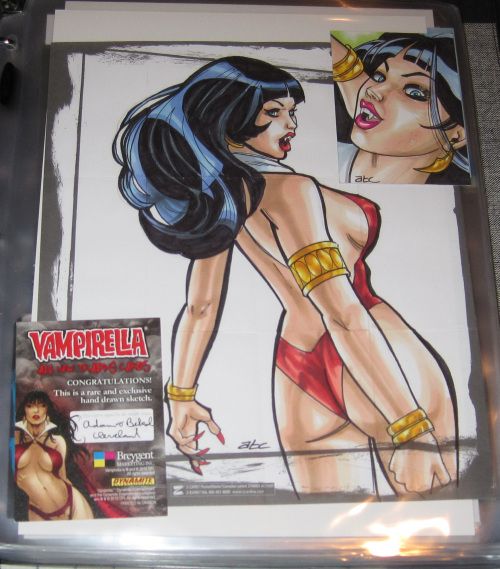 I'm using these for the z-sketch cards. I added a comic backing board behind the sketch to provide some added stability so the page wouldn't curl up (went with the Golden Age comic size, which are 7.5x10.5 in size).
2-pocket binder page (holds up to 5x7 cards)
On the right is a 5x7 sketch card, on the left is a 4x6 sketch card, plus I cut up a comic backing board to 5x7 size to put behind it. I think that makes the card look better; plus, it helps keep the sketch card from sliding around.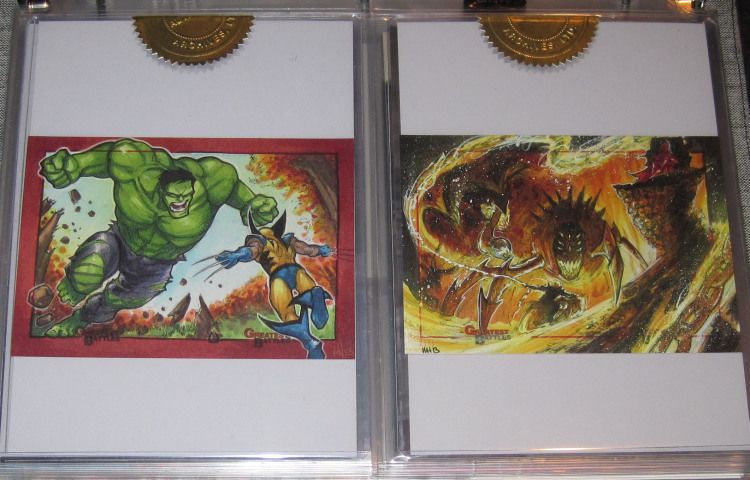 These pages also hold the Rittenhouse Marvel's Greatest Battles Meghan Hetrick puzzle sketch cards in their original toploaders. Again, I put a backing board behind them to that you wouldn't see a lot of clear space.
Here are a couple of 4x5 Rittenhouse AP sketch cards. They are in 4x6 toploaders, then in the binder pages with backing boards behind them.
3-pocket binder pages (holds up to 4x6 cards)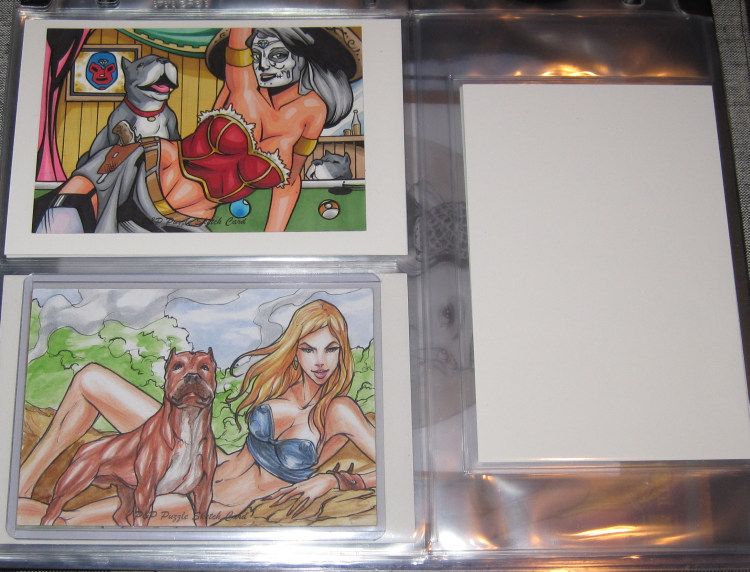 Here are a couple of 2-card uncut puzzle sketch cards (3.5x5 in size), one in a toploader and one without, with backing boards behind them.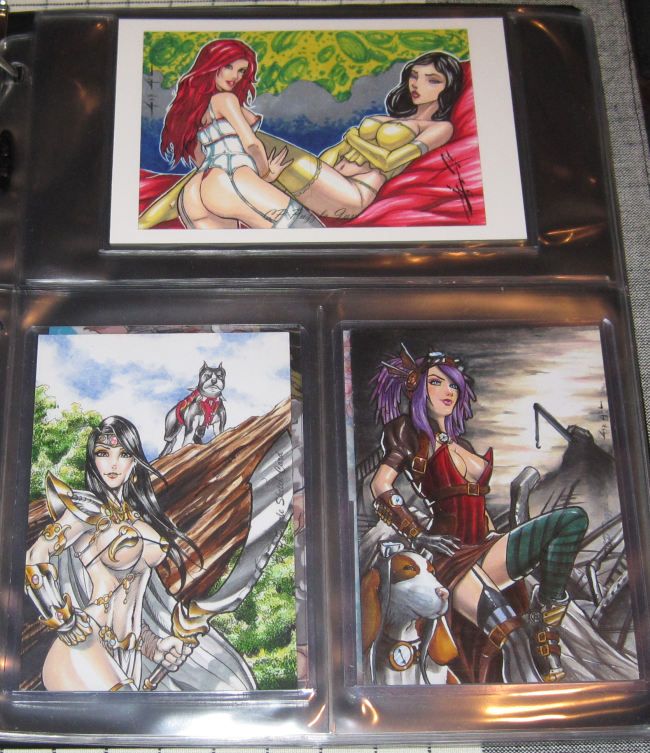 And for a comparison, a 2-card puzzle with a backing board behind it, and a couple of uncut puzzle cards in toploaders but without backing boards. I definitely think they look better with the backing boards behind them.
Anyways, hope this helps! On the 2-pocket pages, it is a little annoying that they are about 1 inch shorter across than the other pages. I see that you can buy 2-pocket pages that are the same width, but I don't like how they look. They've basically added a 1 inch wide piece of clear plastic to the right hand side of the page. If they had centered the page by putting a half inch on either side, then I might have bought them.
I haven't checked the see if the 4x6 toploaders will fit in the 3-pocket pages. If they do, then I might change things up a little. Also need to see if the 5x7 toploaders will fit in the 2-pocket pages, since I have a couple of Veronica O'Connell sketch cards I'd like to put in my binder, but I want them to have a little more protection.
I also see they have 4-pocket pages that hold up to 3.5x5 cards. So those might hold the 2-card puzzles better. I went with the 3-pocket pages instead, because I liked how 1 of the pockets is oriented in a different direction than the other 2, since I have some puzzles that are horizontal and some that are vertical.