Anyone up for a random team break? 12 box case break of 2011 Donruss Elite football. 32 teams with all slots being shipping via priority mail the day after break. Please note that any discount offered by BOC will be updated with a lower slot price. Once all slots are filled and paid, a mod will randomize both the team list and slot order and then pair them up - allowing for trading of slots. Break will be done on UStream (or comparable quality streaming site) and posted to YouTube (id is achau9598). Cards with multiple teams/players will be randomized to determine which team/slot holder the card goes to.
Breakdown is a follows:
1114.00 / 32 = $34.82
shipping/supplies = $6.00
subtotal (40.82)
paypal fee = $1.48
total = $42.30 for first slot / $40 each additional slot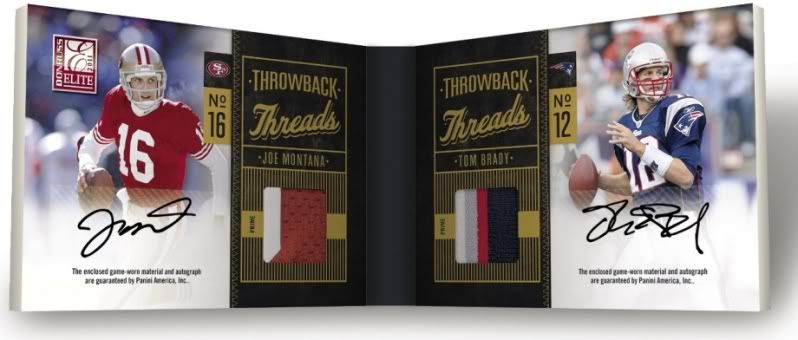 About the product (from BOC site)
Configuration: 12 boxes per case. 20 packs per box. 5 cards per pack.
Box Break
- 4 Autograph or Memorabilia Cards (at least one autograph)
- 4 Rookies
- 1 Aspirations/Status parallel
- 1 Craftsmen
- 1 Legends of the Fall
- 1 Power Formulas
- 1 Hit List
- 1 NFL Shield
- 1 NFL Team Logo
- 1 Additional Parallel, Insert or Rookie
2011 ROOKIES
Blaine Gabbert
Cam Newton
Jake Locker
Christian Ponder
Andy Dalton
Mark Ingram
Ryan Williams
Mikel LeShoure
DeMarco Murray
A.J. Green
Julio Jones
Randall Cobb
Leonard Hankerson
Case Break
Look for one or more of the following autographs:
Peyton Manning, Drew Brees, Tom Brady, Aaron Rodgers, Adrian Peterson, Blaine Gabbert, Jake Locker, Mikel LeShoure, Ryan Williams, DeMarco Murray, A.J. Green, Julio Jones, Ryan Mallett, Leonard Hankerson, Passing the Torch, Throwback Threads, or on-card NFL Shield, NFL Team Logo.
Every case will deliver either a booklet card or dual Passing The Torch autograph.
HIGHLIGHTS
- 100 Commons
- 100 Rookies numbered to 999 ( 4 per box)
- NFL Shield & Team Logo on-card signatures of the top 2011 Rookies including Blaine Gabbert and A.J. Green
- Top NFL rookies from the class of 2011 with autographed versions sequentially numbered to 499 or less, including Aspirations and Status Die-Cuts Sequentially numbered to 49 or less
- Throwback Threads featuring; Otto Graham, Sammy Baugh, Joe Montana, Emmitt Smith, Dan Marino
- Passing the Torch featuring: Peyton Manning/Sam Bradford, LaDainian Tomlinson/Ryan Mathews, John Elway/Tim Tebow, Michael Irvin/Dez Bryant
A brief interview with Panini America NFL Brand Manager Carlos Torrez on the making of 2011 Elite Football
What in 2011 Elite Football should collectors be most excited about?
The new crop of rookies and the triumphant return of a few favorite Donruss inserts from yesteryear such as Legends of the Fall, Power Formulas and Hit List.
When you set out to put a set like Elite together, what is your ultimate goal?
When building a program like Elite or any program, I always look to provide the most value for collectors. I also look to see what worked in past Elite programs and try to bring back key elements that make collectors keep visiting their local hobby shops.
What is your favorite part of 2011 Elite Football?
The addition of Throwback Thread booklet cards and new, fresh pairings in the legendary Passing the Torch autograph set.
http://www.blowoutcards.com/images/ss/2011dneliteFB.pdf
The slots
1.
2.
3.
4.
5.
6.
7.
8.
9.
10.
11.
12.
13.
14.
15.
16.
17.
18.
19.
20.
21.
22.
23.
24
25.
26.
27.
28.
29.
30.
31.
32.