We have listed the product information below. Please post any BOX Breaks, YOUTUBE Videos, or comments related to this product. Our goal is to compile all of the information for this product on this THREAD so that members can come to one place to view all of the Breaks and Information.









Please click the links below to purchase this product by the Box or Case

CASE
Coming Soon...

BOX
Coming Soon...

2011 Rittenhouse Star Trek Classic Movies Heroes & Villains Premium Pack


This all-new series will be limited to 375 boxes, and every box is GUARANTEED to include either a
William Shatner
(Captain Kirk) or
Leonard Nimoy
(Spock) autograph card. Plus, every box will contain a bonus Star Trek: The Motion Picture patch card of either Decker or Ilia, continuing the highly-demanded patch card series launched in our previous movie card series. We are also introducing a multi-box incentive – for every 4 boxes purchased, you will receive a bonus autograph card signed by
Nichelle Nichols
(Uhura)
Rittenhouse Archives is pleased to announce our Premium Pack edition of Classic Star Trek Movies: Heroes and Villains Trading Cards! In this Premium Pack Series, there will be 2 autograph cards per pack!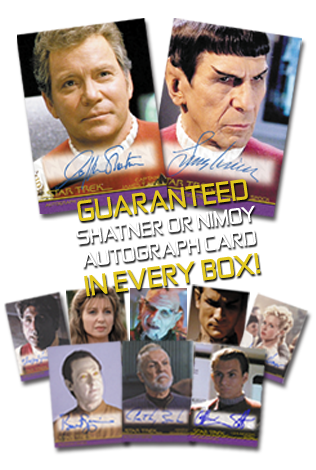 20 Autograph Cards
(2 cards per Premium Pack)

William Shatner
(Captain James T. Kirk)
Leonard Nimoy (Spock)
Brent Spiner (B4)
Christian Slater (U.S.S. Excelsior Communications Officer)
Donna Murphy (Anij)
Anthony Zerbe (Admiral Dougherty)
Patti Yasutake (Nurse Alyssa Ogawa)
John Hostetter (Boolian Officer)
Allan Miller (Alien)
Robert Hooks (Admiral Morrow)
Scott De Venney (Bob Briggs)
Michael Owen (Lt. Branson)
Joseph Ruskin (Son'a Officer)
Hilary Hayes (Ruby)
David Orange (Sleepy Klingon)
Vijay Amritaj (Captain Randolph)
Conroy Gedeon (Civilian Agent)
John Putch (Journalist)
D. Elliot Woods (Starfleet Officer)
Jonathan Simpson (Young Sarek)



54 Heroes and Villains Cards with all-new super hi-res photos and each card sequentially numbered to 550 (5 cards per Premium Pack)
12 Tribute Cards with each card sequentially numbered to 475
(1 card per Premium Pack)





14 Star Trek Die-Cut Gold Plaques with each card sequentially numbered to 425 (1 card per Premium Pack)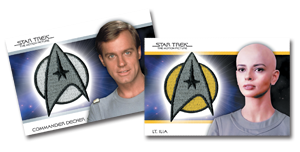 2 Bridge Crew Patch Cards/Box Toppers
with each card sequentially numbered
to 250 (1 card per Box)





1 Multi-Box Incentive Autograph Card
(1 card for every 4 Boxes purchased)
Nichelle Nichols (Commander Uhura)

Product Configuration:
9 Cards Per Premium Pack
15 Premium Packs Per Box
1 Box Topper Per Box