Penmanship Preview: 2012 Press Pass FanFare Football
04.23
Posted on April 23, 2012 – 1:03 pm | Author:
tolentinotown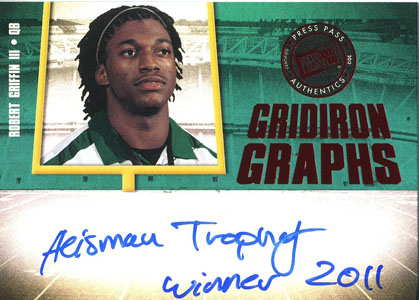 By Andrew Tolentino | Football Editor
If you saw last week's Box Busters episode featuring
2012 Press Pass FanFare Football (and an Andrew Luck autograph)
, you pretty much get the drift. Five cards with a lot of promise.
Aesthetically speaking, the cards are an upgraded version of basic
Press Pass
— marked by thicker stock, shimmering foil surfaces, and numbered variations. It's a potent, autograph-only break with decent odds of pulling at least one from this year's exceptional rookie crop.
Our video offers a two-box glance and
a chance to win some Lucky ink
, but the following 33 images should offer an even better look at the inscriptions and other details awaiting collectors as the hobby version releases on
April 25
.
Press Pass' pre-draft autograph exclusive with Luck is quite a draw, but the product features plenty of premium pulling alternatives for the $100(ish)-a-box price tag. In addition to the chromium-printed base autographs, FanFare also delivers three holofoil inserts with varying degrees of difficulty. Base autographs come in Gold (unnumbered), Blue (numbered to 199), Bronze (numbered to 99), Violet (hobby only; numbered to 25), and Black (hobby only; 1/1).
Next Level Ink
,
Paydirt
and
Gridiron Graphs
inserts feature the best of the best in Silver (numbered to 99), Blue (numbered to 50), Red (numbered to 25), Emerald ( hobby only; numbered to 10), and Melting (hobby only; 1/1) parallels.
When the retail version hits shelves on
May 2
with a one-auto blaster box formula, collectors can find exclusive Red and Emerald base autograph parallels respectively at Target and Wal-Mart.
Now without further ado, on to the ink: