Up for sale is my case break plus one extra box. Prices are in USD. Shipping is $2.80 to the USA which includes delivery confirmation and $3.50 to Canada/Rest of World which does not include tracking. Minimum of $10 before shipping please!
Base set 1-150
: $30, singles are 50 cents each for most up to $2 for certain ones
Extended rookie set R1-100
: $125 barely over the cost of one box and you get the entire set!
Extended rookies
all $1 each unless noted:
Tarkki
Bouma
Nemisz
Murphy
Faulk
Landeskog $5
Savard
Kubalik
Moore x2
York x2
Johansen $2
Vincour
Vandevelde
Hartikainen
Petrell
Lander
Teubert
Nugent-Hopkins $7
Timmins
Kearns
Gudbranson
Voynov
Bulmer
Rau
Diaz
Nash
Emelin
Leblanc $2
Geoffrion
Blum
C. Smith
J. Smith
Henrique $3
Larsson x2 $2
Sims
de Haan
Campanale
Nilsson
Hagelin
Erixon
Wick
Benoit
Dacosta
Zibanejad $2
Couturier $3
Rundblad x2
Despres
Vitale
Strait
Bortuzzo
Angelidis
Gardiner
Kundratek
Eakin
Orlov
Rookie Extended red parallel
:
Condra 10/10 $15
Holo FX Diecut
:
Larsson $12
Holo FX
$1 each unless noted:
Smith-Pelly
Nemisz
Kruger x2
Saad $2
Landeskog $5
Johansen $2
Hartikainen
Lander
Petrell
Gudbranson
Palushaj
C. Smith
Blum
Geoffrion
Henrique $3
Larsson $2
Erixon
Zibanejad $2
Rundblad
Couturier $3
Colborne
Frattin
Scheifele x2 $4
Future Watch Non-Auto RC /999
$2 each:
Maroon
Mcnabb
Shaw
Hayes
Russell
Kytnar
Rallo
Palmer
Fredheim
St. Denis
Josi
Ullstrom x2
Nilsson
Bickel
Borowiecki
Rinaldo
Marshall
Sneep
Orlov
SP Essentials
: $1 each unless noted
Orr $2
Miller
Iginla
Skinner
Toews
Duchene
Benn
Howard
Hall
Kopitar
Richards
Koivu
Subban
Parise
Kovalchuk
Tavares
Gretzky $5
Messier
Lundqvist
Lindros x2
Jagr
Crosby $5
Stamkos
Kessel
Luongo
Ovechkin $3
Autographs:
Sign of the Times
:
Harding $5
C. Lemieux $5
Jones $4
Caputi $4
Bailey $4
Schultz $25
D. Bowman $4
Orr $100
Dumont $4
Maxwell $4
Sheppard $4
Future Watch Auto Patch /100:
Faulk white $25
Gaunce barely 3 colors $30
Smith-Pelly redemption $30 no shipping if you just want the code
Henrique beauty 3 colors $225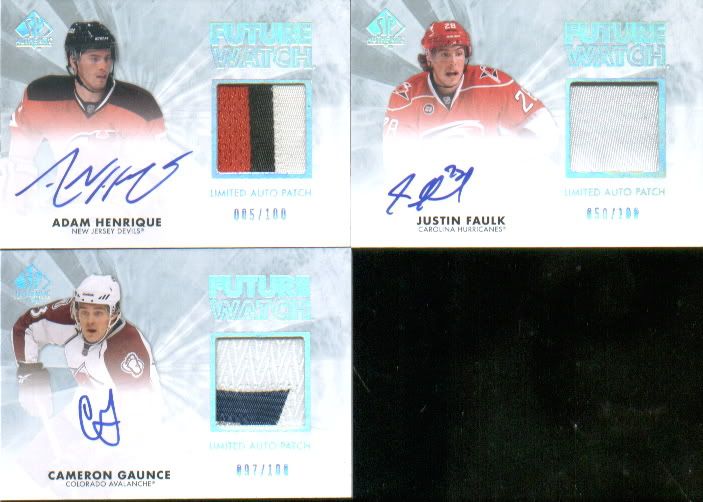 Future Watch Auto RC's /999:
Petrell $6
Wiercioch $6
Scheifele $40
Holmstrom $6
Geoffrion $6
Despres $18
Gardiner $22
Connolly $15
Diaz $8
Stalock $7
Johansen $18
Moore $6
Sateri $10
Sauve $6
Horak $6
Scrivens $13
Zibanejad $22
Klingberg $7
Kassian $17
Palushaj $7
Voynov redemption $15
Teubert redemption $10
Landeskog redemption $60