Abner M. Aust
Colonel Abner M. Aust Jr. graduated from the Army Air Corps flying school at Luke Field in April 1943. His class was the first at Luke to fly the P40 before graduation. Flew P39, P40, P47, P51, A24 and A26 air#@craft as a fighter instructor before going into combat. He flew P51s from Guam, Tinian, and Iwo Jima with the 506th Very long Range Fighter Group.
Colonel Aust's first encounter with the enemy occurred over Nagoya, Japan. He attacked six Franks and when the fight was over he had destroyed three and damaged three more. On 17 July 1945, Abner Aust led an 8 aircraft sweep over the main island of Honshu. This sweep started about 100 miles NE of Tokyo and ended South#@east of Tokyo at a very well camouflaged fighter base. After repeated attacks on this field, the score was 26 aircraft destroyed or damaged. Aust was credited with 3 destroyed and 3 damaged.
On 10 August 1945, Colonel Aust probably became the last Ace of WWII when he destroyed 2 Japanese aircraft and damaged one other. On several other missions, he was credited with destroying several trains, at least three large fishing boats and damaging one destroyer.
Tally Record: 8 destroyed, 7 damaged. 5 air 3 ground.
Colonel Aust flew with the following fighter groups and wings: 83rd, 506th, 36th, 20th, 12th, 33rd, 388th, 31st and 3rd. He commanded the 33rd, 31st and 3rd TFWs. He commanded the 31st TFW in Vietnam and during his tour he flew 300 combat missions over South and North Vietnam. Colonel Aust was awarded the Legion of Merit, DFC with 3 clusters, Bronze Star, Air Medal with 25 clusters and three high ranking Vietnam decorations.
Colonel Aust retired on 1 July 1972 after 30 years of active duty mostly in fighter units and fighter operations. He first flew jet aircraft in 1947 and he flew almost every jet fighter except the F86. He flew the P51, F100 and F4 in combat. He had acquired about 7000 hours with over 500 in combat when he retired. He prepared the first copy of the Fighter Tactics/Doctrine Manual in 1963 and originated many improvements in fighter operations and fighter aircraft.
WORLD WAR II ACE, RETIRED COLONEL,
SENT TO PRISON FOR TWO YEARS
Fifty-five years ago, a young Army pilot shot down two Japanese Zero fighter-planes over Tokyo in August 1945, becoming one of the last "aces" of World War II.
Retired Air Force Col. Abner M. Aust went on to enjoy a long military career, topped with 300 missions over Vietnam and the Distingushed Flying Cross.
But today the 79 year-old war hero's life is in ruins. Aust is on his way to prison for the next two years after offering a dump truck and $10,000 to have someone burn down his ex-wife Brenda's house.
That someone turned out to be a confidential informant for the Polk County, Fla. Sheriff's Dept. It could have been worse. By pleading no contest to an arson charge, Aust, avoided the more serious charge of soliciting to commit first-degree murder.
The Austs were divorced in 1987.
Robert K. Morgan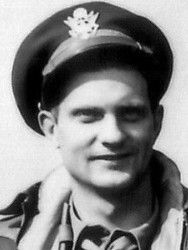 "He's a damn good pilot. He always brought us home" These words from a crew member of the B-17 "Memphis Belle" probably best sum up Bob Morgan's military career. Commanded by Morgan, the B-17 Memphis Belle was the first of the heavy bombers to achieve 25 missions over Europe. The plane and her crew were immortalized in a 1943 combat documentary directed and filmed by William Wyler ; and again in 1990 by a Warner Bros. Hollywood movie (produced by Wyler's daughter, Catherine) - both were titled "Memphis Belle".
"There were no easy missions", says Morgan, who never lost a crew member. "But, the secret to the B-17 was the capability of flying in tight formations - so tight that the wings were often almost touching. We were able to put out an amazing amount of firepower. That, and the Norden Bomb Sight, which made us extremely accurate at high altitudes. I also positively feel that was a bit of divine intervention for our crew.
Morgan, born July 31, 1918 in Asheville, NC (he has lived his entire life there) in the Western North Carolina Blue Ridge Mountains, was a student of history and realized early on that America would get into the war. After attending the University of PA Wharton School of Finance, he joined the Army Air Corps in 1940. His basic flight training took place in Camden, S.C.; Primary Training at Bush Field, Augusta, GA; and Barksdale Field, LA; B-17 training at McDill Field, Tampa, FL; and Advanced B-17 Training in Walla Walla, WA. On December 12, 1941 (five days after Pearl Harbor), he pinned on his Pilot Wings and received his Second Lieutenant bars.
In October 1942, Morgan flew the Memphis Belle to Bassingbourn, England, home of the 91st Bomb Group, 324th Bombardment Squadron. "Back then," Morgan recalls, "there was no book on high altitude strategic bombing. The Generals didn't know anymore than we did. They had to figure bombing strategy as we went along.. Initially, the Memphis Belle flew missions into France and the Low Countries, but in early 1943, Germany became the target.
In the first three months of the Belle's sorties from Bassingbourn, 80% of their Bomb Group were shot down. Moral was low, so the Generals set the completion of 25 missions as an incentive for a man to go home. Morgan frequently speaks to school kids and explains, "80% losses means you had breakfast with 10 men; dinner with only 2 of those 10. On 17 May 43, the Memphis Belle crew became the first to complete 25 missions; then return to the United States on their 26th Mission..
In June 1943, the crew departed England for the United States and began a 30-city Public Relations/Warbond Tour. First stop - Washington Natl. Airport, D.C., where Morgan was ordered to buzz the field. All the dignitaries ducked when he made a low pass over the reviewing stand. All through the tour the crew thanked the American public for their war efforts. They told them what was really going on in the war. The boys (Morgan was 23) were treated as heroes everywhere they went. Wined and dined from June through August of '43. The red carpet was rolled out in every city. They even took their mascot, Stuka (a black Scottie dog), with them. The tour was an emotional, but exhausting event for the crew, but an incredible moral boost for them and the public. Then it was over. The Generals told the crew they could have any job they wanted in the Air Corp. (except theirs).
Morgan had seen the still secret B-29 during the tour in Wichita and volunteered to train in this new bomber. He wanted to command his own B-29 Squadron and he trained hard and earned it. In Oct 1944 he deployed to Saipan in his brand new B-29 named Dauntless Dotty. They were assigned to the 20th AF, 73rd Bombardment Wing, 497th Group, 869th Squadron. On 24 Nov 44, Morgan made history with another "first". With Gen. Rosie O'Donnell on board Dotty as command pilot, Morgan led the first B-29 bombing raid on Tokyo (this was the first time the U.S. had bombed Tokyo since the '42 Doolittle raid in B-25s). The mission was successful. After completing another 24 B-29 missions, Morgan was sent home in April 1945. He continued to serve his country in the USAF Reserve and retired in 1965 as a full Colonel.
At age 81, he still holds an active pilot's license and works full-time in the real estate business and makes personal appearances around the world. In April 1999 he was invited to fly the Boeing B-52 at Barksdale AFB, Shreveport, LA and in October 1999, he was invited to fly the subsonic B-1B Bomber at Robins AFB, Georgia. Robins subsequently named one of its B-1's "Memphis Belle" and painted the new noseart on in February, 2000.
He and his wife, Linda (also a pilot), have five children between them, and eight grandchildren. They own two Olde English Sheepdogs and a mutt and are active in animal welfare.
Awards:
The President of the United States of America, authorized by Act of Congress, July 2, 1926, takes pleasure in presenting the Distinguished Flying Cross to Captain (Air Corps) Robert K. Morgan (ASN: 0-430609), United States Army Air Forces, for extraordinary achievement while participating in aerial flight while serving as Pilot of a B-17 airplane, 91st Bombardment Group (Heavy), EIGHTH Air Force, on twenty-five bombardment missions over enemy occupied Continental Europe. Displaying great courage and skill, Captain Morgan has materially aided in the success of each of the twenty-five missions and his actions are an inspiring example for his fellow flyers. The courage, coolness and skill displayed by Captain Morgan on all these occasions reflect the highest credit upon himself and the Armed Forces of the United States.
The President of the United States of America, authorized by Act of Congress, July 2, 1926, takes pleasure in presenting a Bronze Oak Leaf Cluster in lieu of a Second Award of the Distinguished Flying Cross to Lieutenant Colonel (Air Corps) Robert K. Morgan (ASN: 0-430609), United States Army Air Forces, for extraordinary achievement while participating in aerial flight as Airplane Commander and Squadron Leader, 869th Bombardment Squadron, 497th Bombardment Group, TWENTY-FIRST Air Force, on 18 December 1944. Flying in the lead ship of the formation, Colonel Morgan successfully led his squadron of B-29 aircraft to a vital target on the Japanese mainland. Heavy fighter attacks and anti-aircraft fire were encountered. Because of bad weather the approach to the target and the bomb run were made by instruments. A momentary break in the clouds permitted last minute visual corrections and the bombs were released on the target causing extensive damage to a vital link in the enemy's aircraft production program. The professional skill and leadership displayed by Colonel Morgan reflect the highest credit on himself and the Army Air Forces.
(Citation Needed) - SYNOPSIS: Lieutenant Colonel (Air Corps) Robert K. Morgan (ASN: 0-430609), United States Army Air Forces, was awarded a Second Bronze Oak Leaf Cluster in lieu of a Third Award of the Distinguished Flying Cross for extraordinary achievement while participating in aerial flight during World War II.