Hei Guys,
I'm looking to move this one, cause I got an second one incoming for my GP Collection.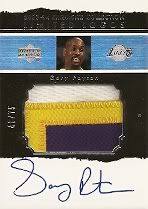 I think it is sharp for a card of this series.
Please check my ebay link for better pictures.
03-04 UD Exquisite Limited Logos Autograph Auto Patch /75 Gary Payton 3 Color | eBay
Looking for a nice 1 to 1 or 2 to 1 deal unless I got an real stunning offer. Anyways more looking to sell it, Paypal goods 650$ dlvd. to anywhere around the world fully insured.
If you are interested lmk - I'd also check buckets or do card/cash deals