Judy Heeter will step down as MLBPA's director of Business Affairs and Licensing The Beckett Blog
The woman who has nothing but disdain for prospectors and who attempted (and succeeded, in many cases) to confuse everyone with her "rules" three years ago is kaput.
Her slogan was: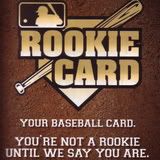 And she will NOT be missed.
I'm guessing her rules will live on without her, but at least a moral victory can be claimed by those who were scratching their heads at her massive faux paus.