NFLPA Rookie Premiere attendee list leaked
May 9th 2013, 15:59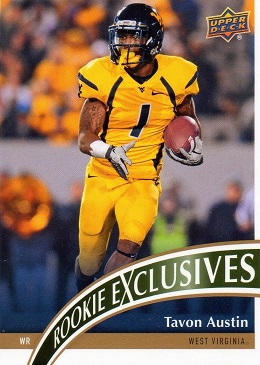 By Susan Lulgjuraj | Beckett Football Editor
The
NFL Player Association Rookie Premiere
kicks off next week. This is when
Topps
and
Panini America
get a number of autographs from the newest NFL players.
About 40 players are expected to attend and the list has been leaked in several places, including
Sports Card News
and
Fandeavor
.
According to the list, the first and second overall picks will not be in attendance. The highest pick that will be there is
Dion Jordan
, an outside linebacker who was selected third overall.
In fact, in the defensive- and linemen-heavy first round just six first-rounders are on the list of scheduled participants.
This is just a preliminary list and is subject to change. While the NFLPA did not confirm the list, it did endorse Fandeavor's trip on its Facebook page telling football fans they can meet up to 40 NFL rookies while linking to the list below.
Allen Keenan WR California San Diego
Austin Tavon WR West Virginia St. Louis
Bailey Stedman WR West Virginia St. Louis
Ball Montee RB Wisconsin Denver
Barkley Matt QB USC Philadelphia
Bell Le'Veon RB Michigan State Pittsburgh
Bernard Giovani RB North Carolina Cincinnati
Davis Knile RB Arkansas Kansas City
Dobson Aaron WR Marshall New England
Eifert Tyler TE Notre Dame Cincinnati
Ellington Andre RB Clemson Arizona
Ertz Zach TE Stanford Philadelphia
Escobar Gavin TE San Diego State Dallas
Franklin Johnathan RB UCLA Green Bay
Gillislee Mike RB Florida Miami
Glennon Mike QB NC State Tampa Bay
Goodwin Marquise WR Texas Buffalo
Hopkins DeAndre WR Clemson Houston
Hunter Jason WR Tennessee Tennessee
Jones Landry QB Oklahoma Pittsburgh
Jordan Dion DE Oregon Miami
Lacy Eddie RB Alabama Green Bay
Lattimore Marcus RB South Carolina San Francisco
Manuel E.J. QB Florida State Buffalo
McDonald Vance TE Rice San Francisco
Michael Christine RB Texas A&M Seattle
Nassib Ryan QB Syracuse New York Giants
Patterson Cordarrelle WR Tennessee Minnesota
Patton Quinton WR Louisiana Tech San Francisco
Randle Joseph RB Oklahoma State Dallas
Reed Jordan TE Florida Washington
Robinson Denard WR Michigan Jacksonville
Smith Geno QB West Virginia New York Jets
Stills Kenny WR Oklahoma New Orleans
Taylor Stepfan RB Stanford Arizona
Te'O Manti LB Notre Dame San Diego
Wheaton Marcus WR Oregon State Pittsburgh
Williams Terrance WR Baylor Dallas
Wilson Tyler QB Arkansas Oakland
Woods Robert WR USC Buffalo
Beckett News » NFLPA Rookie Premiere attendee list leaked