We have listed the product information below. Please post any BOX Breaks, YOUTUBE Videos, or comments related to this product. Our goal is to compile all of the information for this product on this THREAD so that members can come to one place to view all of the Breaks and Information.

Please click the links below to purchase this product by the Box or Case

CASE
Coming Soon...

BOX
Coming Soon...






2009/10 Panini Adrenalyn XL Basketball Booster & Starter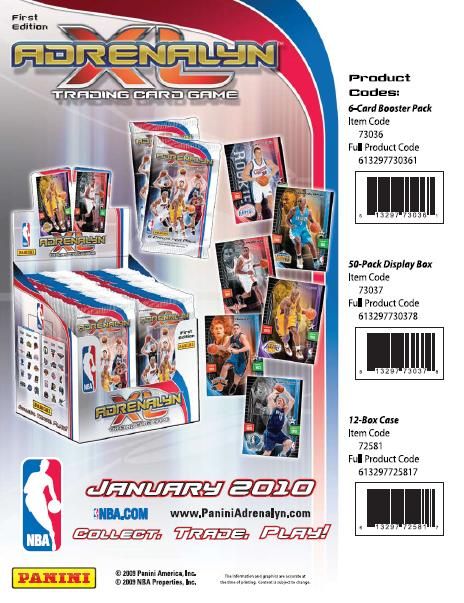 2009/10 PANINI ADRENALYN XL BASKETBALL Boosters
50 Packs per Box. 6 Cards per Pack.NBA Adrenalyn XL is the all-new trading card game developed for children aged 6-11. This fantastically-valued entry-level product will not only introduce kids to the hobby of card collecting, but give them an easy-to-learn game to play with their cards.
Play online, each card featured an activation code. Enter the codes online to build your virtual collection and play against friends and win exclusive prizes!! The card types: Special 1:2 packs, Extra cards 1:8 packs, Extra Sig cards 1:8 packs and Ultimate cards 1:23 packs
2009 PANINI ADRENALYN XL BASKETBALL Starters 4 bx Case
8 Decks per Box.NBA Adrenalyn XL is the all-new trading card game developed for children aged 6-11. This fantastically-valued entry-level product will not only introduce kids to the hobby of card collecting, but give them an easy-to-learn game to play with their cards. Play online, each card featured an activation code. Enter the codes online to build your virtual collection and play against friends and win exclusive prizes!!The card types: Special 1:2 packs, Extra cards 1:8 packs, Extra Sig cards 1:8 packs and Ultimate cards 1:23 packs