Companies prepare for Black Friday ó where the industryís creativity continues to show
11.25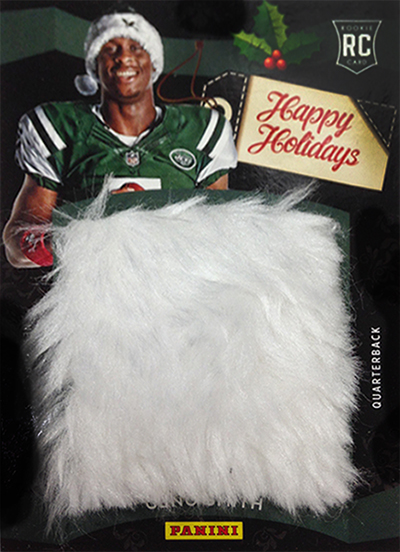 By Chris Olds | Beckett Sports Card Monthly Editor | Commentary & Opinion
Itís not just a big sales day, itía a whole lot of work ó and, to some degree, an experience for collectors.
Black Friday
is nearly here, and, for card companies, itís a chance to add to the creative pieces collectors can chase. For card sellers, itís a chance to be creative with marketing and to ensure they are utilizing all of their sales potential as best they can.
These days, thatís not just a website or simple storefront for many dealers. Itís a multi-channel online approach that creates and fosters surges of traffic ó as well as collector interest ó throughout the biggest sales weekend of the year. Itís building an audience and an experience ó and, of course, both of those things benefit a brand that can stick with collectors the remainder of the year.
How big can it be online?
ďIn the past, the website has averaged between two to three million pageviews on Black Friday,Ē said
Chris Park
of Sterling, Va.-based
Blowout Cards.
And thatís
just one
of the companyís platforms.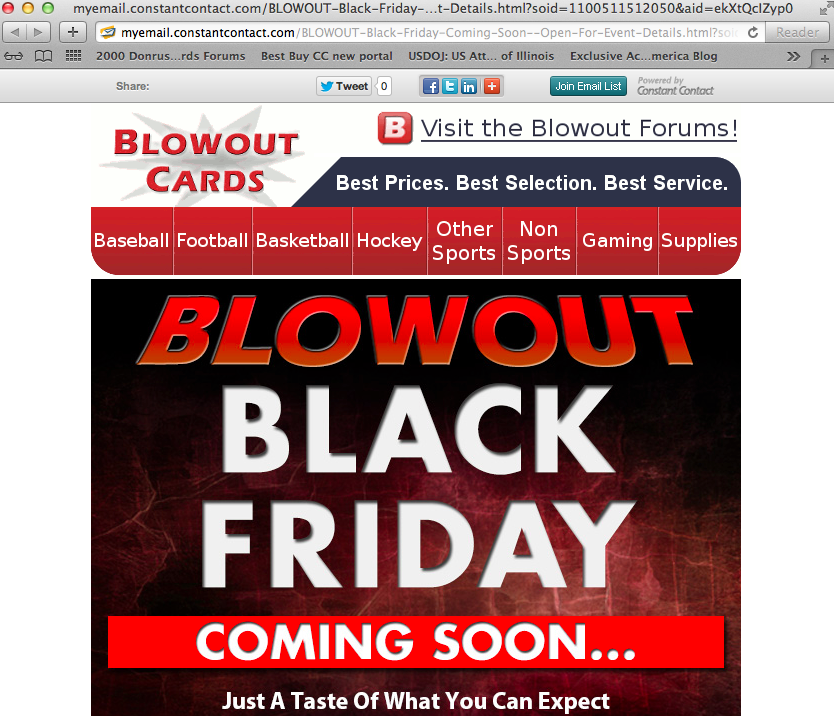 For manufacturers, this is a chance to flex some promotional muscle with programs that help draw collectors into the traditional hobby shops with packs as incentives for purchases. This, of course, is not new for this year as
Panini America
has done it for the last few years ó but the inclusions just keep getting more interesting as Santa hats, headbands, towels, player jerseys, autographs and more keep finding their ways into packs. For collectors who donít have a card shop, the bonus program carries over to purchases on
its website as well
. Meanwhile, Paniniís marketing department has been promoting the possibilities for the last couple of weeks online as well as elsewhere.
These arenít your motherís or fatherís approaches to buying sports cards. Heck, they arenít even
your way
of buying cards a few years ago. (And some people say the sports card industryís reach is dwindling.
Hmmph
.)
Panini isnít alone in this regard as other companies are getting in on the marketing and promotion side of making cardboard holidays out of holidays ó even if they are unofficial ones.
Using Blowout as an example, there are many ways one entity can sell every day or on Black Friday as long as one is plugged in online. However, even its Chantilly, Va.-based
The Fantastic Store
also will have its own promotions.
Beyond its website, Blowoutís crew will use social media ó
Facebook
as well as its handful of
Twitter
accounts ó along with email promotions and the other non-selling areas of its website during the event such as its message board where there will be
ongoing contests and prizes.
Oh, and, of course, to keep up with the latest trend of the last year or so, it will also use its online group-breaking presence,
BlowoutTV
.
Then, of course, the traditional selling begins ó but not without even more promotion to draw collectors and, of course, their cash. Itís not a day thatís just about low prices.
ďThere will be hundreds more door-busters along with some crazy promotions all day long.Ē Park said. ďIn the past, they have included phone-in contests, $50-$500 Blowout Cards gift card giveaways, one-year subscriptions of choice to Beckett.
ďAnd random collectors have received an email saying their box and case orders were free.Ē
With times tight for many, itís good to see thatís even a possibility.
Chris Olds is the editor of Beckett Baseball and Beckett Sports Card Monthly magazines. Have a comment, question or idea? Send an email to him at colds@beckett.com. Follow him on Twitter by clicking here.