Hey guys! I've been looking at some singles on the Bay and would like to sell off a few cards to put towards some new ones. Here are a few singles I am looking to unload. I'll be adding some more in the next few days.
2009 Ultimate Generations Six jersey of Jack Ham, Lawrence Taylor, Mike Singletary, Ray Lewis, Derrick Brooks & AJ Hawk.
This card contains an error, in that instead of a picture of Jack Ham, Rod Woodson is pictured. Lots of color in the jerseys.
$32 DLVD OBO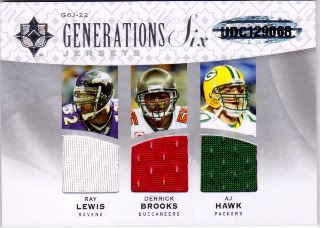 2009 Topps John Elway Commemorative Patch $14 DLVD
The card has some very minor warping on the back around where it is glued in but not even noticeable in a top loader. Seems to be pretty common with these cards.