Topps Captures Tebow Mania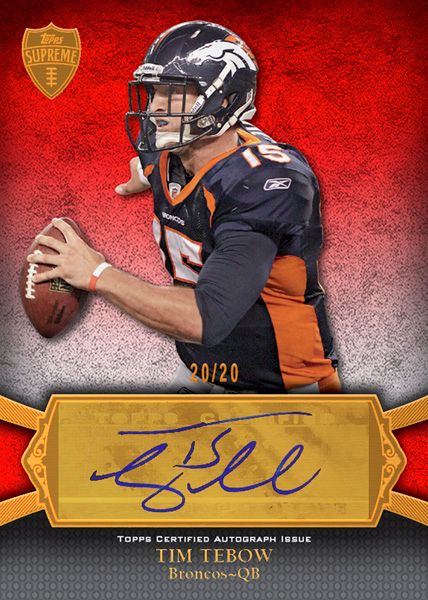 Today, the much-anticipated Topps Supreme Football releases and it features autographed cards from one of the hottest players in the game…Tim Tebow.
As "Tebow Time" takes the nation by storm, collectors can find these autographed cards in Topps Supreme:
Base Autograph #'d to 27
Base Autograph Red Parallel #'d to 20
Base Autograph Green Parallel #'d to 10
Base Autograph Platinum Parallel #'d to 1
Base Autograph Printing Plates (4 versions) #'d to 1
Triple Autograph w/ Newton, Bradford #'d to 10
Quad Autograph w/ Newton, Sanchez, Ryan #'d to 5
In addition, Topps announces it is including 50 more Tebow Autographs (via redemption) in its Precision Football Release. These cards, which are appropriately named "Tim Tebow Precision Comeback Autographs" will capture all of Tebow's late game heroics including the overtime playoff win versus the Steelers last week. Each limited edition card will be numbered to 9 or less and include Tebow's autograph.
__________________